Buy Laughing Gym in USA
Laughing Gym is a large, deep brownish orange-colored mushroom that might send your mind sailing to outer realms if you eat it. Or may send you running to the bathroom. Or the hospital. This common species has a lot of folklore around it. And a lot of confusion when it comes to North American species. And, as if that isn't complicated enough, it also has some very troublesome lookalikes. Maybe the common name comes from how confusing it is to identify this one – it's a laugh even to try?! Or, you'll go raving laughing mad if you try? take a look at the origin of Laughing Gym
Scientific Name: Gymnopilus junonius, syn Gymnopilus spectabilis, species complex
Common Names: Big Laughing Gym, Laughing Jim, Spectacular Rustgill, Laughter Mushroom
Habitat: From rotting wood, which may or may not be visible.
Toxicity: Toxic/Potentially hallucinogenic
All About Big Laughing Gym
Laughing gym earned its common name due to its significant size and the reported hallucinogenic properties of certain species populations. In various parts of the world, this mushroom is said to induce uncontrollable laughter and unconventional behavior when ingested. It is known as waraitake in Japan, which literally translates to "laughing mushroom."
However, the levels of hallucinogens, such as psilocybin and psilocin, vary among different populations of the laughing gym, making it crucial to exercise caution. It might just make you very ill. Or do nothing at all.
The "original" laughing gym mushroom was initially described by the renowned Swedish mycologist Elias Magnus Fries in 1821. Originally named Agaricus junonius, it was later reclassified as Gymnopilus junonius by British mycologist Peter Darbishire Orton in 1960. The genus name "Gymnopilus" is derived from the Greek words "gymnos," meaning naked, and "pilus," meaning cap, alluding to the smoothness of its cap. The species epithet "junonius" pays homage to the Roman goddess Juno, known for her beauty and strength.
Depending on which resource you consult, the original laughing gym is solely a European species. Or, it does occur in North America and is synonymous with Gymnopilus spectabilis. In addition, depending on your source, G.junious does or does not contain hallucinogenic properties. But, G. spectabilis does contain hallucinogens. But if they're synonymous, well…what does that all mean?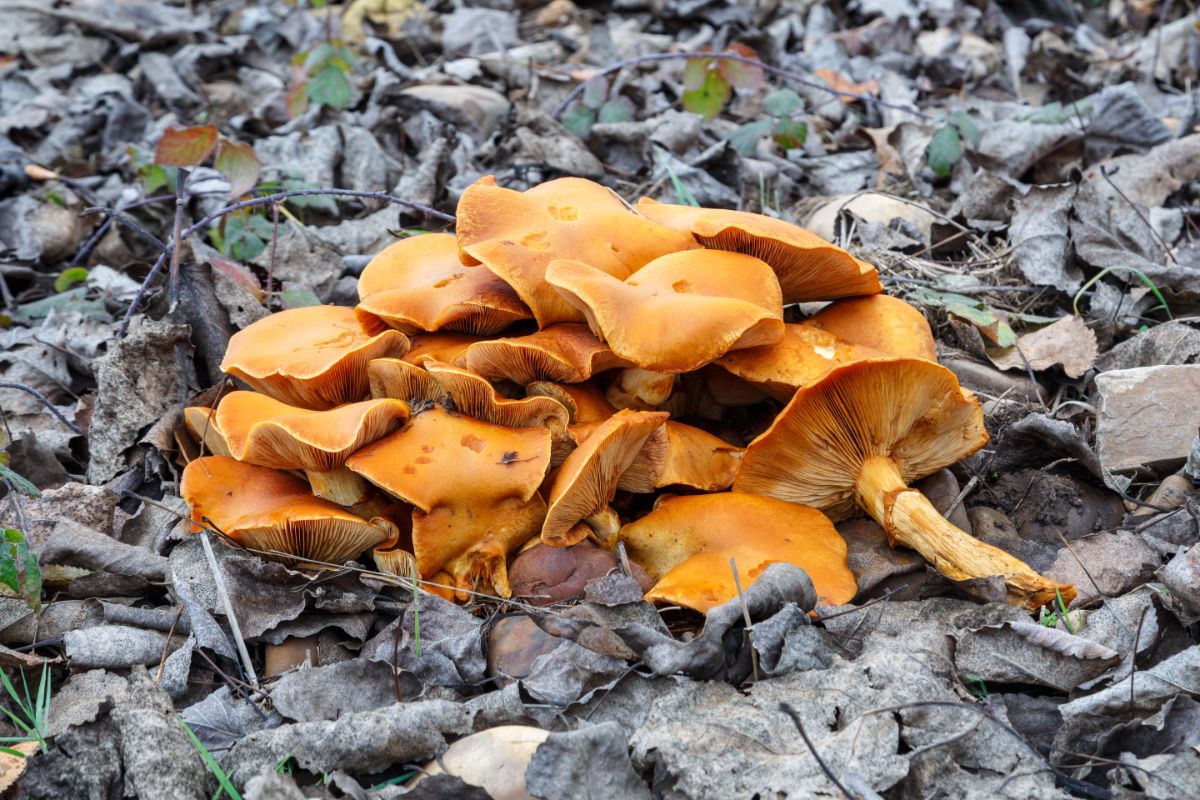 The reason all this naming is important to mention is because mushroom identification guides over the years may use either of these names as the primary North American laughing gym species. And the descriptions of its properties may be quite varied as well. So, if you're cross-checking in any mushroom identification book, don't be surprised to see either name. (As a side note, there are over 200 Gymnopilus species worldwide, and the laughing gyms comprise just a small section.)
It seems most sources agree that G.junious is not hallucinogenic, but related lookalikes are, hence the confusion. Or, the hallucinogenic properties of the species vary widely depending on where the mushroom is growing on the planet. Whether the psychoactive properties vary within the same species or whether they are actually all different species with different levels, this is a group to avoid unless you are very sure and very experienced.
Hallucinogenic Properties of Big Laughing Gym
The psychoactive species of laughing gyms contain psilocybin and/or psilocin. The levels vary among specimens, with some having a little and some having quite a bit. Some specimens don't even have measurable amounts of hallucinogens. The effects of consuming this species range from heightened perception, hallucinations, mood swings, hilarity, vomiting, nausea, and gastrointestinal distress. We do not recommend messing around with the laughing gym; there's a very, very good chance you won't be laughing at all.
Frequently Asked Question
Does laughing gym mushroom have medicinal properties?
There is currently no scientific evidence supporting any medicinal use for laughing gym species.
Are Gymnopilus mushrooms psychoactive?
It depends on which one you've found. There are over 200 Gymnopilus species in the world. Some have hallucenogenic properties, many do not. Of the 200, only a handful fall into the "laughing gym" species complex. And even among this handful, the psychoactive compounds vary widely.
Do Gymnopilus mushrooms bruise blue?
Some do, some don't. There are over 200 species in the genus.
What are the effects of consuming Gymnopilus?
Gymnopilus junonius is reported to induce hallucinations (hence the fun name, laughing gym); this doesn't seem to be true. It is more likely related species. Or, it depends on where the mushroom is growing. However, it is widely agreed that eating this species is more likely to make you sick instead of giving the hoped for hallucinogenic experiences.